Useful information before planning your first flight at FAAM
Joining a Flight
Scientists who need to fly on the FAAM aircraft will first need to complete an application for an Airtask pass. This must be completed at least three days before the flight.
Flight Schedule
FAAM normally plan flights two days in advance. Firm plans are made by midday the day before the flight, timings and the crew list will then be emailed to project participants to give at least one day's notice.
A critical item on the timing list is the Flight Briefing. This takes place two hours before take-off. It is the main coordination meeting for the flight, and outlines the operational science plan and safety briefing. You should plan to arrive well in advance of this briefing – if you miss it, you may be unable to board the plane.
Lunch and water will be provided on the aircraft for all passengers. If you have any dietary requirements please contact us in advance.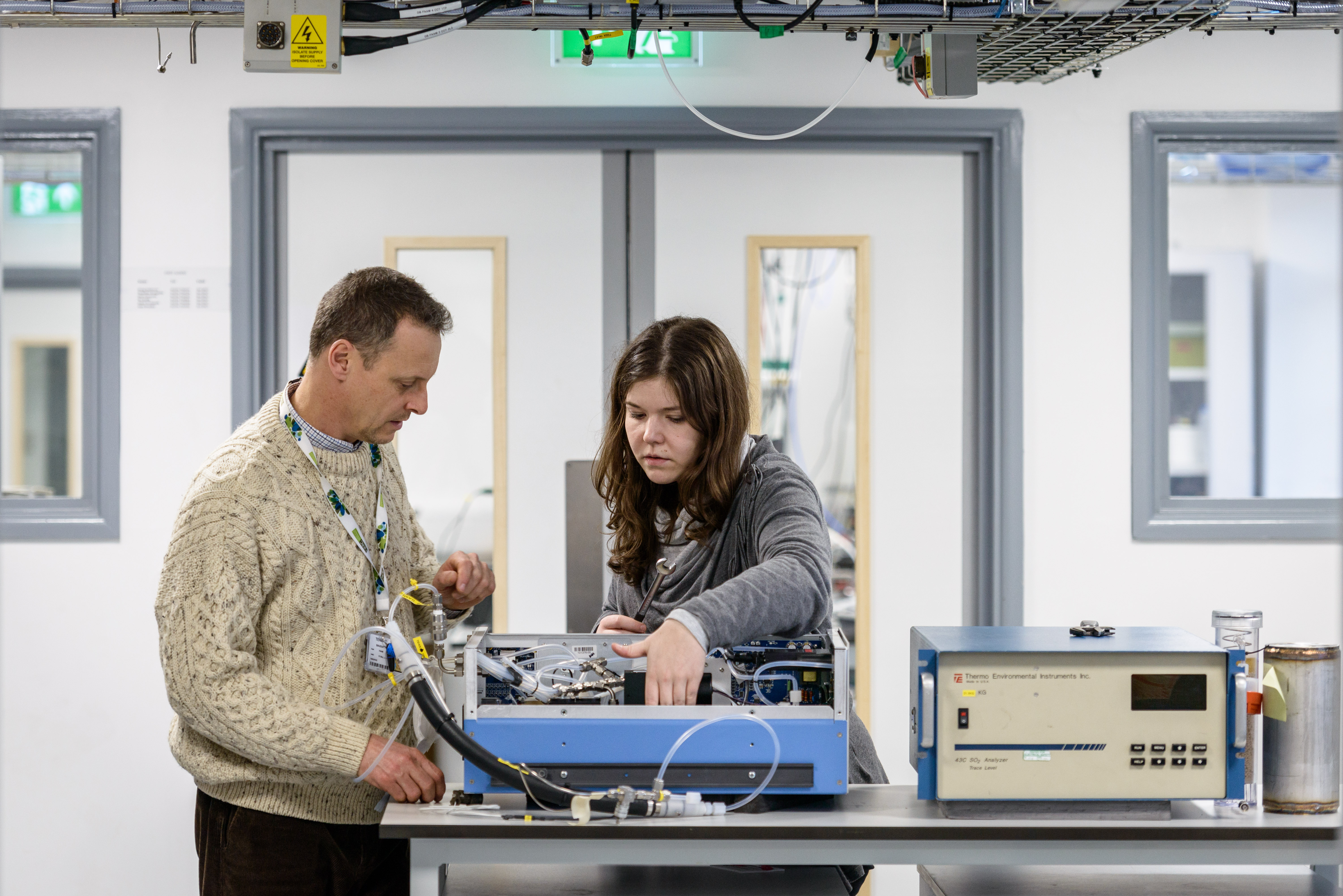 Introduction
The FAAM Airborne Laboratory (ARA), is a 4-engined BAe-146-301 jet aeroplane, operated on behalf of the science community by Directflight Ltd (part of Airtask group) following public transport aviation procedures. 
Scientists working on board the ARA are normally referred to as "Science Crew", but should be aware that in most legal lights they are regarded as airline passengers, and as such afforded a very high degree of safety and protection in line with that status.  However, the unusual nature of ARA operations also puts an onus on everybody on board to understand and comply with a range of safety and security procedures, and to display levels of personal responsibility beyond that normally required of more conventional "passengers".
Aircraft Access Passes
For Flight Access to the aircraft
Anybody flying on board the ARA must normally hold an Airtask security pass.  These will be issued to people known to FAAM and/or Airtask to have good reason to make an application, and following satisfactory security checks. Procedures for obtaining this pass are published on the FAAM website and should be consulted for any new application.
For Ground (Airside) Access on a Flight Day
Scientists needing to access the aircraft before or after the flight phase of the mission, for example to calibrate instrumentation or retrieve data, must either be escorted by a passholder or carry a valid Airside pass themselves. Procedures for obtaining an Airside pass vary depending on location, but for FAAM users at Cranfield, the process is documented on our website.
Loss of either identification card, once issued, should immediately be reported to Airtask Operations.
Introducing a new flyer to FAAM
New flyers must receive a New Flyer Induction from FAAM before their first flight, and it is strongly recommended that they take part in a New Flyer Workshop (which includes the New Flyer Induction). PIs should notify FAAM of the requirement for new flyers to be trained early in the campaign planning process so that sessions can be arranged. 
In extreme situations where it is not possible to deliver a New Flyer Induction session before a first flight, the safety induction and headset brief must still be given, with written documentation provided to cover the other aspects of the New Flyer Induction.
New instrument operators and mission scientists who have not flown before should have a familiarisation flight. For this flight, they will be assigned a mentor, ideally from their own institution, who should be an experienced user of the aircraft and themselves have attended a New Flyer Workshop.
If an experienced user from the flyer's institution is not available, this role could be performed by a member of FAAM staff, but not one who is already undertaking a time-consuming role in the flight.
They will be shown by their mentor how to communicate using a headset, and will be expected to demonstrate competence in using the headset to the Flight Manager. Training to operate an instrument may begin on this familiarisation flight if the new flyer is comfortable and this does not interfere with their learning about the general operation of a science flight (the new flyer should not, for example, be expected to spend significant amounts of time off-headset).
Further training for a specific role continues on at least one more flight, and may take multiple flights, depending on the role to be performed. Ground-based training may also be undertaken, but this should be in addition to, rather than instead of, familiarisation and training flights. Depending on the role, training may be provided by FAAM, or by a competent, experienced member of staff from an external organisation in the case of non-FAAM instrument operators. Operating an instrument independently can only begin after the new flyer has completed at least two flights. Training should be documented and the new flyer should demonstrate their competence to an appropriate trainer.
Many flyers want to take photos of their time with FAAM. There are some things to be aware of when using a camera around the aircraft. Please familiarise yourself with the Photography and Filming Guidance document.
The flying day
Arrival
Flyers should consult the FAAM Flying Calendar the day before for the timings for the next day's flight. Please arrive in good time, especially so where additional work or training needs to be done.
Briefing
Prior to the flight, FAAM will conduct a briefing, involving all fliers, where the planned science sortie will be discussed in detail. Critical operational and science constraints will be presented, as well as any relevant crew safety information. Attendance at the briefing is mandatory.
Security Sweep
Typically 45 minutes before flight, everybody must have completed their preflight actions, science tools must be returned to the toolkit, and staff will leave the aircraft whilst it is searched by the operator for anything which might affect safety. Personal or hold baggage may also be searched prior to loading onto the aircraft, always in the owner's presence and with consent. The aircraft toolkit will be checked complete before departure.
Boarding
Immediately after boarding a safety brief will be delivered verbally to all science crew.
Takeoff and landing
Again, consistent with standard passenger air transport, all Science crew must be seated with 4-point seat harness securely fastened at the lap and shoulder prior to aircraft taxy. Staff remain seated and harnessed until given the all clear by the flight crew, normally at 10,000ft after takeoff. Similarly on approach to landing, science crew will be seated and securely harnessed. All laptops and loose items must be safely stowed 10 minutes before landing.
After Landing
Once the engines have been switched off, seat-belt lights will be switched off, and the science crew will be free to move around. When leaving the aircraft, science crew should continue to follow the practice described in [relevant sections, currently 3 and 4].
Following completion of the flight, FAAM will normally conduct a post-flight debrief to assess the science and operational performance of the science sortie.
Preparation prior to boarding
Before boarding the aircraft, and ideally before initially attending the facility, please prepare by considering some key points: 
Appropriate Flying Clothing.
Please give consideration to the local conditions, especially extremes of temperature. The aircraft can become cold at high altitude and hot at low level. The need to manage body temperature and the potential for dehydration in hot environments must also be balanced with considering skin protection should an extreme event arise such as a cabin fire. Many FAAM staff have been previously  issued with fire-retardant clothing (we're reviewing how this should work in future) but even for those that have a flying suit, in the tropics it can be uncomfortably hot to wear. Open-toed footwear is not appropriate for the aircraft environment generally because of the presence of the science racks, and is not allowed airside at Cranfield Airport. 
Communicate with FAAM staff and / or ground crew.
Before Boarding, particularly during the pre-flight phase, it is important that you establish that you are clear to approach the aircraft, go on board and start work. Local conditions, arrangements or provisions may be subject to changes and good communications will ensure that you work safely and that you are minimally impacted by such changes. While away from our operating base in Cranfield, a pre-detachment briefing will summarise our local arrangements.
Environmental Conditions
Please especially make yourself aware of any special provisions that may be in place, or any mitigations that may be employed to protect the aircraft, staff and science equipment from exposure to problematic environmental conditions. Extreme heat and cold and rain or snowfall may cause issues with aircraft ground access, or may impede the performance of some tasks. Please allow extra time as a contingency.
Safety practice on the apron
Safe working on the airfield will be covered both as part of training for a Cranfield Airside Pass, and for an Airtask Pass. If you hold neither, then you must be escorted by a passholder.
The aircraft manoeuvring area (also known as ramp or apron), is a busy place of work; when operating on or around the aircraft, the following must be observed:
A compliant fluorescent, "Hi-Viz", jacket or vest

must

be worn at all times while airside.

The use of ear protection may be essential, depending on activity.

Smoking is only permitted in designated smoking areas and is not permitted on the airfield or onboard the aircraft.

Identification must be carried when on the airfield, in the hangar or on the aircraft. Any individual not known or wearing visible identification in one of these areas should be challenged.

Personnel are not to walk under the tail of the aircraft when the APU is running.  (The APU or Auxiliary Power Unit is a small jet engine within the tail used for generating additional power.  It is extremely loud).

Where possible, to avoid hazard from venting fluids, personnel should not walk under the aircraft wing.

Mobile phones may not be used on the airfield outside the ARA because of the risk of distraction.

Vehicles are a potential source of accidents on the ramp both in terms of personal injury and damage to aircraft. Personnel should pay particular attention to vehicle movements. One may not be able to hear approaching vehicles when wearing hearing protection; never take for granted that a driver has seen you.
General safety on board the aircraft
Procedures for working on the aircraft on the ground, including Tool Control are available online.
Key points for flyers are relatively similar to standard airline safety considerations: 
Know how to get out in an emergency.

Follow instructions from Flight crew or engineers.

The pre-flight briefing and onboard safety brief should provide you with the needed basic safety procedures and information prevailing on the day. Neither is optional, even for experienced flyers.

Report anything unusual or abnormal to (in order of preference) the operating CCM, the Flight Manager, or directly to the flight deck.

The seat belt signs must be obeyed at all times. During engine starts and shutdowns, all personnel must be seated so that the aisles remain clear. When operating at altitudes below 5,000ft, or when the seat belt sign is illuminated, all personnel are to return to their seats and fasten the seat belt. The full harness (i.e. including shoulder straps) is also to be worn for take off and landing.

Additionally, flyers should be familiar with the aircraft Intercom system and the provided headset. At low level you will be strapped in, and it is then your primary method of communication.

The ARA's cabin is noisier during flight than similar conventional passenger aircraft. FAAM will supply headsets to all flyers to both reduce noise exposure and facilitate communication around the aircraft, but where this cannot be worn, science crew should consider ear plugs or ear defenders.

The nature of some profiles flown by the aircraft is a potential cause of anxiety and motion sickness. The debilitating effects of

airsickness

should not be underestimated. In the interest of safety, the CCM should be made aware of all instances of any form of sickness. Sick bags are available but the primary means of relief is through changing the aircraft profile being flown. Personnel experiencing discomfort of any kind should be offered support and they should not be expected to continue with their tasks. Any medical or safety related issues must be dealt with and the Captain kept informed.

Keep hydrated.

Airtask supply bottled water for flyers, please ask the Cabin Crew.

Keep your work area tidy. Stray articles can pose a risk to the aircraft or fellow fliers as well as yourself.
Emergency procedures
All science fliers will attend the Preflight Briefing, or if unable to do so receive an individual briefing prior to flight. All science flyers will also receive a safety briefing from the Cabin Crew manager following boarding. Both of these briefings should be attended to for the important safety information given.
Two able-bodied passengers will receive a brief on emergency evacuation procedures to be able to assist with opening aircraft doors in an emergency.
In mid-2020, following a CAA approved change to Airtask's operating procedures, FAAM staff ceased to be required to act as 'FAAM Trained Persons' in support of the Cabin Crew Manager in managing incidents. Though this explicit role is no longer, FAAM staff will continue to undertake a programme of training to support their airborne roles, the content for this is being developed.
Special provisions
The unique nature of the FAAM Airborne Laboratory provides for some specific operations that may be needed during flight. There are provided for in Airtask's Operating procedures:
Aside from takeoff and landing,

instrument operators may stand at their racks

if the rack has harness provision and both a harness and a bump-cap are worn. 

The

Mission Scientist's seat

may be occupied by one of the science crew, normally the Mission Scientist themselves, as long as they have been adequately briefed about the special provisions that apply. The Mission scientist's seat must be in the forward and locked position for take off and landing. Additionally, the full fitted 5-point safety harness must be worn when the seat is in the forward position. 

Below 5,000ft but not below 1,000ft,

the captain may specifically authorise science crew members to leave their seats

. 

During

dropsonde operation

, all personnel must be fastened to their seat or rack from 3 minutes prior to launch until the ejector is clear, closed and latched.

The CCM will be seated at the rear of the cabin for take off and landing.

An Able Bodied Passenger

(ABP), seated at the forward inboard seat, will be briefed to open the forward right door in an emergency. It should be noted that the left doors are the larger of the aircraft doors.

Each rack will be fitted with a

safety data sheet

including emergency shutdown actions.  Anybody working at any rack either in the air or on the ground must familiarise themselves with the contents of this sheet.  If the sheet is missing, this will normally prevent flight and on the ground no rack should be powered unless the safety data sheet is available.

A small

science toolkit

is carried to facilitate some very minor operations in flight, access is controlled by the Airtask crew. Under no circumstances should it be used to de-mount equipment from the aircraft racks or interior, or gain access to instrument internals.

Rarely, rack circuit breakers (that regulate the power to racks or instruments) might trip during a flight, cutting power to that rack. Whenever this happens during routine operation, the captain must be informed.
Aircraft refuelling
There are occasions when the ARA will be refuelled, either at Cranfield or elsewhere, with personnel on board.  On such occasions:
Seatbelts and harnesses must be unfastened when the aircraft is being refuelled. Passengers should remain seated when possible.

Aircraft exits must be kept clear of any obstructions, including persons.

The rear doors must remain closed and guarded by a CCM or ABP, unless steps are in position.

Personnel may only leave the aircraft in an emergency or with the permission of the person in charge of the aircraft. If personnel need to either embark or disembark during refuelling, they shall at all times be moved under the strict supervision of either a member of ground crew or the aircraft crew.

Mobile telephones may not be used outside or exiting the aircraft whilst refuelling is taking place.

Electrical equipment should not be switched on or off.
Fitness to fly
All science crew should take seriously the primary responsibility that they have, not least to themselves, in considering whether they are individually fit to fly.
Illness, the effects of alcohol, medicines or psychoactive substances, tiredness, injury or other factors may affect a crewmember so as to compromise the science project being undertaken, and potentially also compromise the health of the individual, their safety or that of those around them. 
FAAM and Airtask will therefore expect that, as with the aircrew, science crew only present themselves for duty when they are fit to fly, no matter what the circumstances. Both organisations also reserve the right to deny staff access to board the aircraft if they are concerned about an individual's fitness to fly. 
If as a member of FAAM science crew you feel another member of the crew may not be fit to fly, please speak to either Airtask or FAAM staff.
Colds or ear infection which result in difficulty in clearing the ears. Any inability to equalise pressure across the sinus and eardrum can result in severe discomfort and possible long-term damage. Staff should not fly.
More generally, communicating even a relatively minor illness to other science crew can seriously compromise science projects, especially those conducted with limited staff or time available such as projects away from FAAM's normal home base. Please consider whether there is a risk of this before reporting as fit.
If you become ill during a flight, please report this to the cabin crew. The health of all crew and science crew is the highest of all priorities.
Ready to step on board?
Find out more about the Airtask pass… Read More