FAAM is Europe's largest flying atmospheric laboratory
FAAM has access to a wide range of science instrumentation and expertise from within our own staff and our partner organisations. W
e maintain strong relationships with the UK Met Office and UK university groups, meaning that we can offer a huge range of measurement equipment and knowledge to a prospective user. From basic meteorological parameters through to advanced remote sensing capabilities, cloud microphysics and measurements of complex chemical species in the atmosphere, the aircraft is a highly flexible flying laboratory. Users are even able to add their own instrumentation for more specialised work.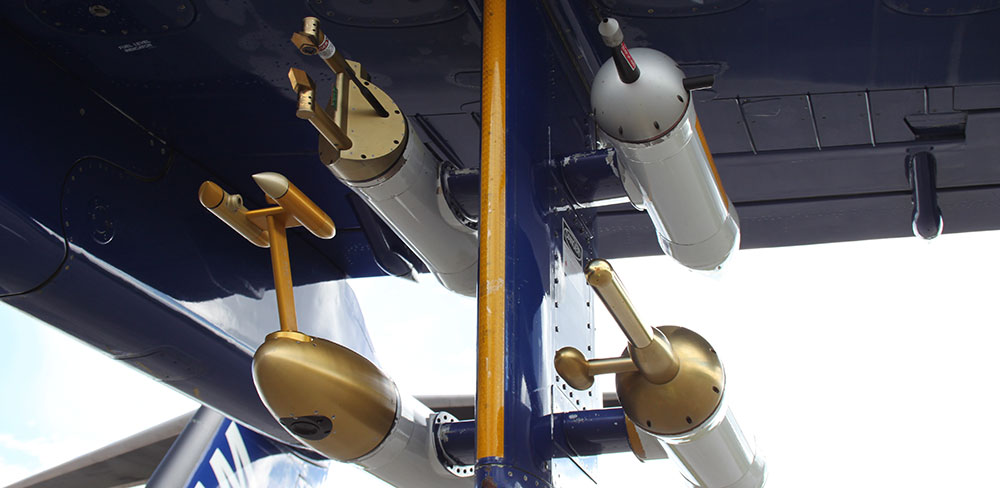 The BAe146 is a very stable and manoeuvrable platform. The aircraft can adapt to a relatively short take-off and landing, opening up the possibility of using small, regional airfields around the world. The FAAM
team are extremely experienced in planning overseas campaigns, including overcoming logistical problems such as getting the aircraft to obscure parts of the globe, transporting support equipment, and managing project scientists, engineers and other staff. The aircraft has conducted science campaigns in areas as remote as Alaska, Svalbard, Brazil, Guam, Ascension Island and the Azores.
Making science flights happen
Discussions about a user's flying requirements and science aims begin early, usually before they apply to use FAAM. Depending on the funding route, these discussions are begun via either the FAAM Project Proposal Form, the Research Runway application process, or direct conversations with a relevant member of the FAAM team.
We fully expect to offer a significant amount of support to new users, and recognise that there can be a steep learning curve in using the facility for the first time. Training is available to new and existing users, and visits to the facility and familiarisation flights are encouraged.
Of particular relevance is the New Flyer Workshop, which includes an introduction to the facility, a safety induction, information on core measurements, a tour of the aircraft, experience of looking at real-time data, as well as optional modules specifically about mission science, analysing data and managing instrumentation.
In the run up to a flight, the scientist leading the science flight – known as the sortie – takes on the role of mission scientist. They write a sortie brief to communicate their objectives and plans with the FAAM team, Airtask operations staff, flight crew and other flyers. Although training in writing a sortie brief is offered, below are some figures that may be useful in the early stages of thinking about flying requirements.
Speed
Low Level: 3.5nm (6.5km) per minute
10,000 feet: 4nm (7.5km) per minute
20,000 feet: 4.5nm (8.5km) per minute
30,000 feet: 5.5nm (10km) per minute
35,000 feet: 6nm (11km) per minute
Altitude Range
Minimum height varies according to the surface overflown, but for sustained flight is generally 100 ft over water and 500ft over land.
It is often possible to momentarily descend to 50 ft over water, but not to maintain flight at that level. Maximum altitude is also variable, depending on the weight of the aircraft (determined by payload and fuel).
The aircraft can climb higher towards the end of a flight, up to a maximum of around 35,000ft. 
Climb and Descent Rate
Our usual climb and descent rate is 1000 feet per minute, but can be slower at high altitudes. 
Turns
How long a turn takes varies depending on the type of turn and the altitude, but ranges from 2 minutes to 5 minutes.
Up Next…
Find out what happens on a flying day.
You can also find information about funding routes to use FAAM Airborne Laboratory. 
New users of the facility and early career researchers may be interested in applying for a small number of flying hours through the Research Runway scheme (link to Research Runway page)